With more than 100 outlets across 10 major airports, CIBO Express Gourmet Markets offers a uniquely curated assortment of on-the-go solutions and readymade provisions.
From delicious, fresh and wholesome foods, to top-line health and wellness solutions, to singular gifts and leading edge tech — CIBO has every taste and need covered.
[ chee - bow ] noun
An iconic lifestyle brand focused on providing guests the essentials they need to grab-and-go happier, healthier and more connected than ever before.
Real food, freshly made, always
fast
CIBO Express takes a hyper-seasonal approach to its ready-made breakfast, lunch and dinner items. Each perfectly pre-packaged item focuses on highlighting ingredients, flavors and trends specific to the season and region.
From healthy and creative sandwiches and salads to decadent chocolates and homestyle cookies, CIBO Express' signature fresh-made selections elevate the union of "local" consciousness and culinary craft.
Conscious options for

every taste
At a glance, CIBO Express allocates a significant amount of its offering to organic, natural, wellness and health products. Categories which are proudly and readily available for travelers include, but are not limited to vegan, vegetarian, kosher and gluten free.
Simply put, CIBO Express takes choice seriously and brings the on-the-go guest a proper assortment of health and wellness-focused items.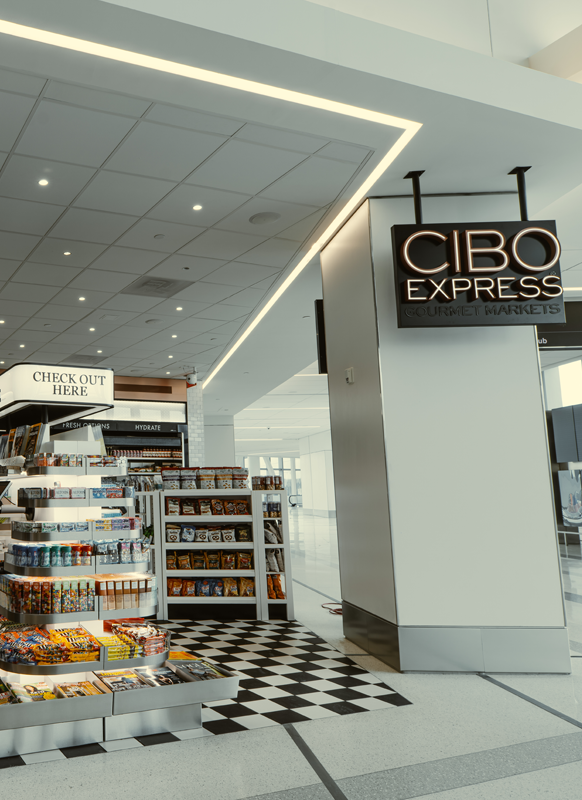 Bringing the best
of our community
Those on-the-go like to know where they stand. That's why CIBO Express brings local artisanal brands and vendors into the market ensuring a distinctive and personal experience worthy of any itinerary.
Whether it's Brooklyn-patterned dishware from Fishs Eddy in New York's Flatiron District, or fresh baked goods from Balthazar Bakery, CIBO Express takes pride in promoting the businesses that make our communities great.
Intuitive tech for an
easier experience
Various CIBO Express Gourmet Markets are equipped with world-class shopping technology that allows travelers to browse what they're looking for and check out in fully contactless manner. Seamlessly woven into the fabric and design of the market, travelers are able to stay in complete control of their shopping experience.
Accepting various traditional and mobile payment options, CIBO Express markets offer travelers a speedy checkout, ensuring an on-time departure for all who pass through.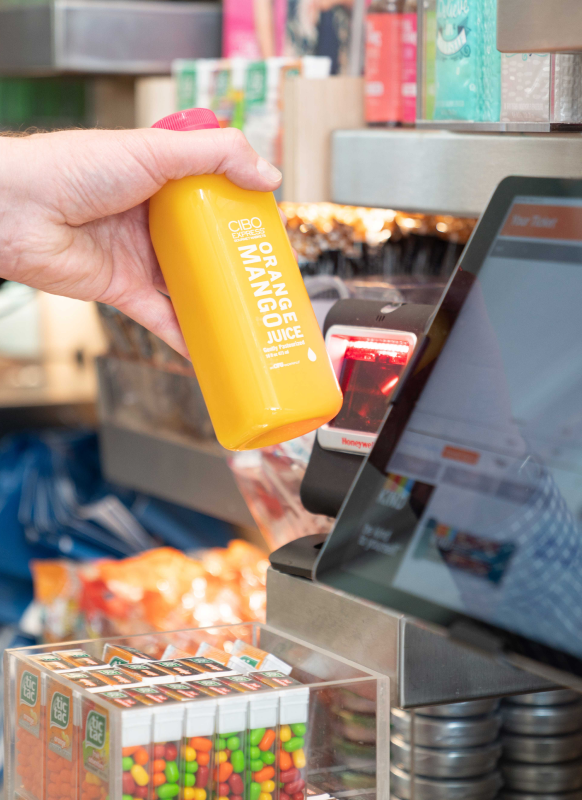 Every essential, Curated for
you
More boutique than bazaar, CIBO discerns the evolving needs of the modern traveler to bring you the quality solutions you deserve. From purely practical to positively plush, our markets are geared to satisfy your every circumstance. At CIBO, travelers find the perfect fit for their personal style among a veritable treasury of top-line electronics and gadget accessories, revitalizing health and beauty essentials, and gift-worthy keepsakes and souvenirs.
CIBO sources high-end, breakthrough, and specialty retailers for jet-setting brands and styles that inspire and propel your way of life.
We keep moving forward, so you can too.