OTG Comes Home to Celebrate its
20-Year Anniversary
Recently the OTG family returned to its hometown, Philadelphia, gathering at the Loews Philadelphia Hotel for two days to celebrate its annual conference and twenty years in business. Like OTG itself, each year the conference grows—in attendance, in content, in OTG Wow! It is obvious that after twenty years of success in transforming the airport experience, OTG has taken off. And with new airports in line for 2016 and ambitious plans for growth and new business development in the years ahead, OTG has a lot to look forward to.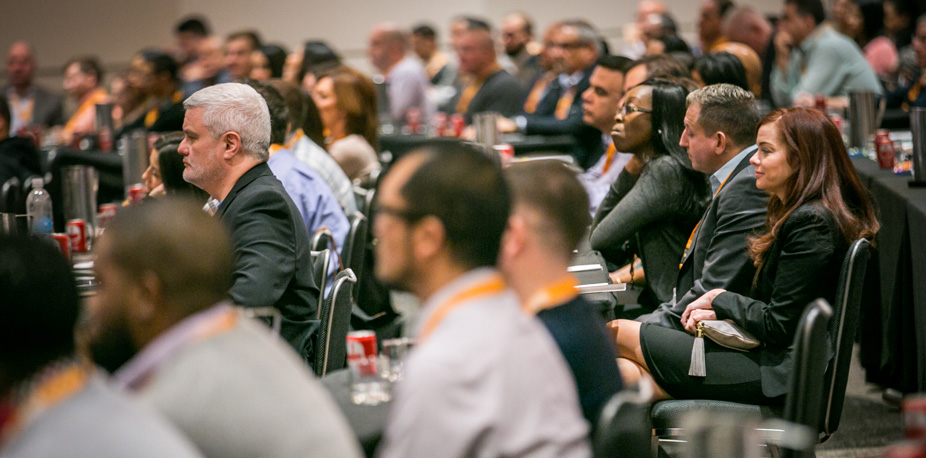 From humble beginnings in the Philadelphia Airport to today's vast continental network of airport restaurants and shops, OTG has indeed come a long way in the last twenty years. 2015 alone saw some exciting innovations in OTG tech integrations, including the ability to text guests when their quick-serve order is ready and the option for guests to start a tab. OTG also went completely Micros free, introduced its Single App Mode, and in an exciting development that promises to broaden the company's reach, installed its groundbreaking flo™ platform at Sadelle's in SoHo, the first major rollout of OTG tech in a non-airport setting!
And because a look at the past would not be complete without a glimpse into the future, attendees also learned that OTG's plans for continued growth and innovation include new airports, new business partners, and more tech integrations that connect today's travelers to the services and amenities they desire most.
The Conference
This year's breakout sessions and presentations explored the areas that OTG will be focusing on in the coming years. Key senior leadership motivated crew members with inspiring lectures on leadership, tech, communications, company direction, talent development, and creating the right vibe for the OTG "aura."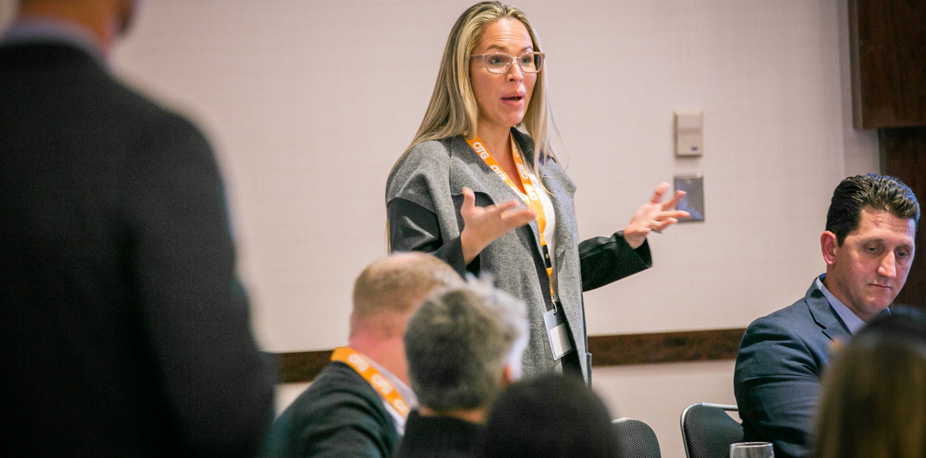 OTG20 Breakout Session
One of the most important facets of OTG's success is the development and nurture of tomorrow's leaders today. That's why founder and CEO Rick Blatstein dedicated his presentation to the future of leadership at OTG. While taking a look at critical business and world leaders and their philosophies for success—from Sheryl Sandberg to Nelson Mandela—Rick stressed that anyone in the room could be a leader. His message was loud and clear: reject complacency and take initiative. Motivating and inspiring, Rick's closing remarks probed the future of OTG leadership by asking, "What kind of leader do you want to be?"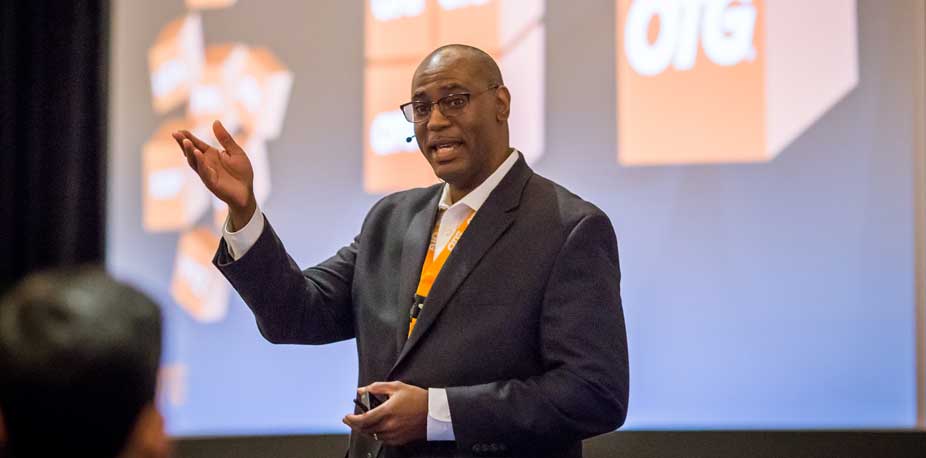 Sean Cook, VP of Discovery
OTG's VP of Discovery, Sean Cook, offered an introduction to the resources available to crew members for mastering capabilities within all phases of their OTG careers. He stressed the importance of developing the skills and capabilities of crew members from within the company. The goal is to cultivate a learning organization that empowers upward career movement, transforming jobs into careers. To further support this initiative to nurture crew members, Sean announced the creation of the OTG University by 2017.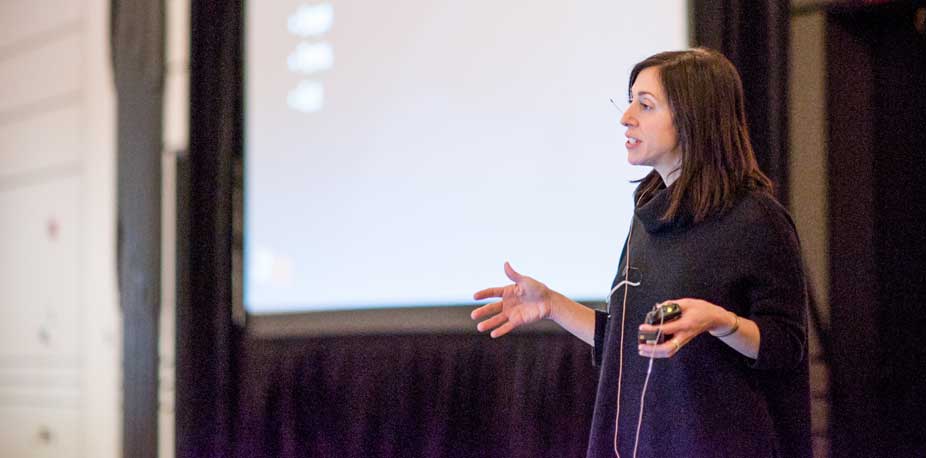 Karen Mirante, Senior VP of Business Development
Karen Mirante, Senior VP of Business Development, underscored the importance of understanding the markets as OTG continues to grow. Karen reviewed the particulars of assessing opportunities, including market climate, scope, terms, and the all-important gut feeling. She discussed overall direction, touching on where OTG is going as a company and how it plans on getting there. To that end, Karen noted, everyone plays a crucial role.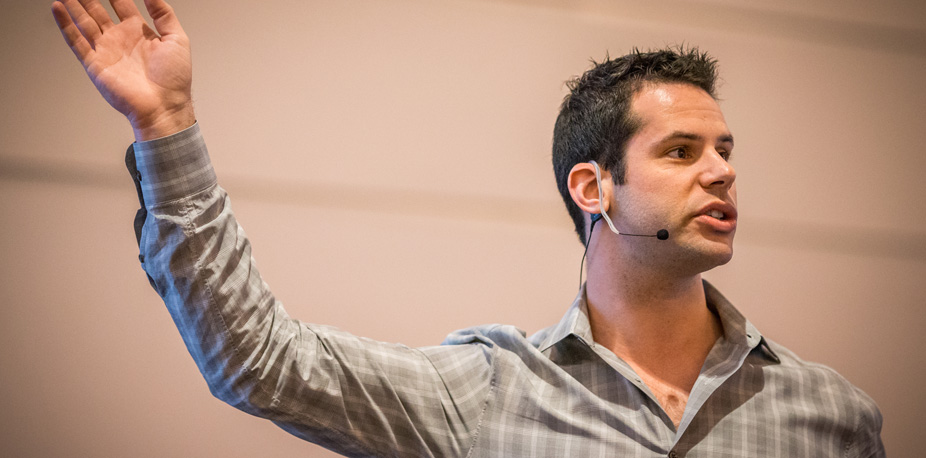 Justin Blatstein, Director of Aura
Justin Blatstein, Director of Aura, explained his role and the importance of creating the right OTG vibe. "Aura" encompasses all aspects of OTG's day-to-day operations and is key to OTG's mission of creating unique and memorable experiences for airport guests. From design to branding, everything we do contributes to the atmosphere and vibe—the "aura"—of OTG. Justin emphasized the importance of thinking creatively, never resting on one's laurels, and looking at the conventional airport space through a differential lens. As an example, Justin offered OTG's success in reimagining hold rooms for all four major airlines: Delta, United, American, and Southwest.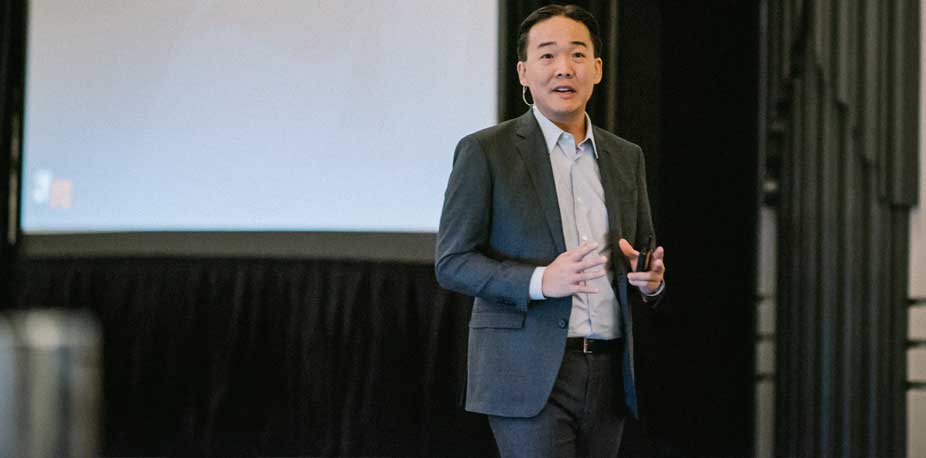 Albert Lee, Chief Technology Officer
Central to OTG's identity is the constant upgrade and integration of cutting-edge guest-focused technologies in the airport terminal. OTG's Chief Technology Officer, Albert Lee, sees tech as the key to fulfilling OTG's call to challenge the status quo every step of the way. In his presentation he spoke about innovation in 2016 and the years ahead. And in a curious revelation that underscores just how far technology has come in our lives, Albert informed the crowd that 95% of 2015's food photos were shot with an iPhone and not with a traditional camera. Looking ahead to 2016 and beyond, Albert outlined his plans to make technology even more accessible and strategic to operators, to strengthen consumer confidence in technology rollouts, and to transform flo™ into its own revenue-building entity.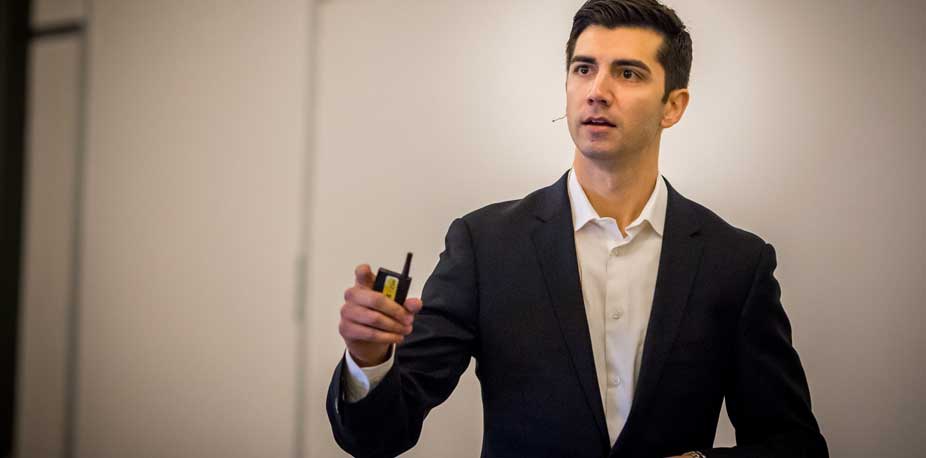 Sean Aziz, Senior Director of Communications
Sean Aziz, Senior Director of Communications, turned everyone's attention to why OTG does what it does. In order to create "tomorrow's terminal for today's traveler," OTG needs to grasp and communicate not so much its "how" but rather its "why." The overall goal of all OTG communications efforts is to communicate this information, amplify the OTG experience, and protect the OTG brand in a way that supports the company's uninterrupted evolution.
Trade Show & Iron Chef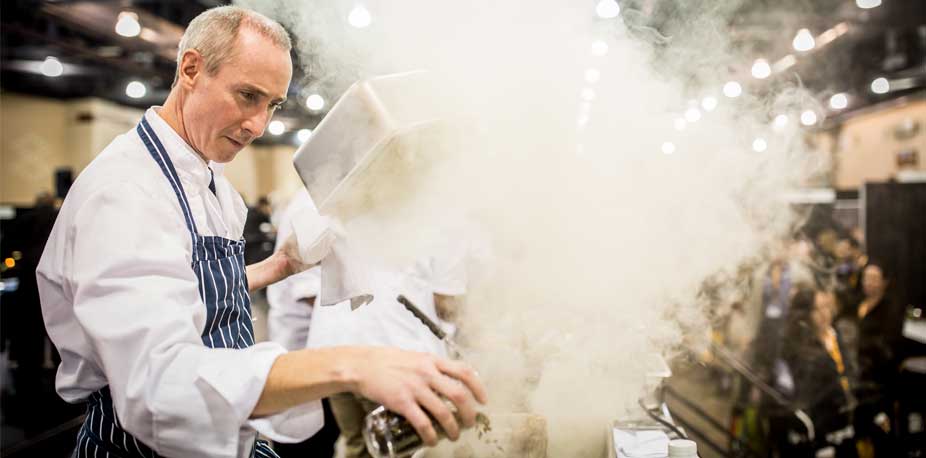 Iron Chef 
While the presentations and breakout groups gave everyone a serious look at the OTG mission and strategy, other events allowed attendees to be creative and have some fun—key components of OTG's core values. As in the past, this year's conference also hosted a trade exhibit that allowed current and potential OTG business partners to meet the OTG crew and show off their products and services. And in what has become an OTG tradition, the "Iron Chef Competition" had spectators licking their lips and clapping their hands as the Philly team pulled out all stops to take home the win.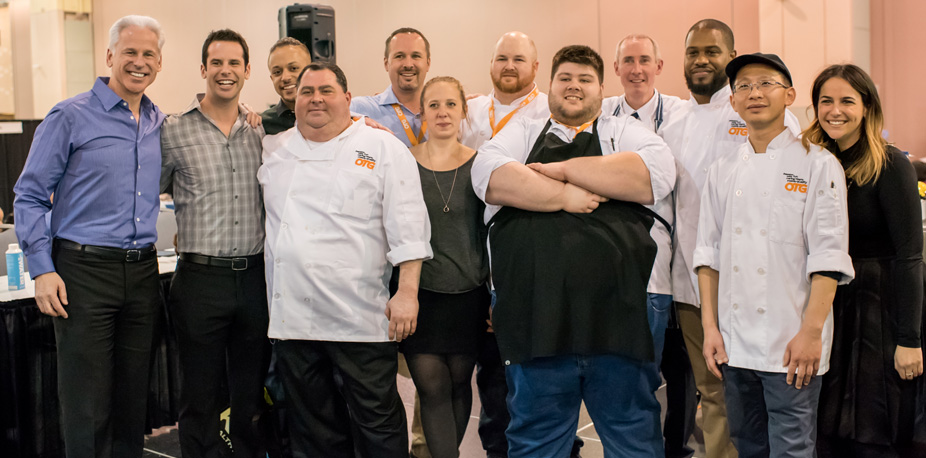 OTG20 Iron Chef Champs
The Gala
Finally, in a night of surprises that crept into the early morning hours, OTG Management celebrated twenty years of growth and success by taking over one of Philadelphia's most exciting venues. The Fillmore Philly lit up with sharp tuxedos and elegant gowns as over 700 crew members, business partners, family, and friends gathered to ring in two decades of innovation and leadership in the airport hospitality sector. Featuring various forms of entertainment, including sand artist Charlene Lanzel and a surprise performance by Philadelphia's own The Roots, everyone agrees that the 2016 gala event was the crowning glory of the OTG conference. We can only wonder what next year will bring!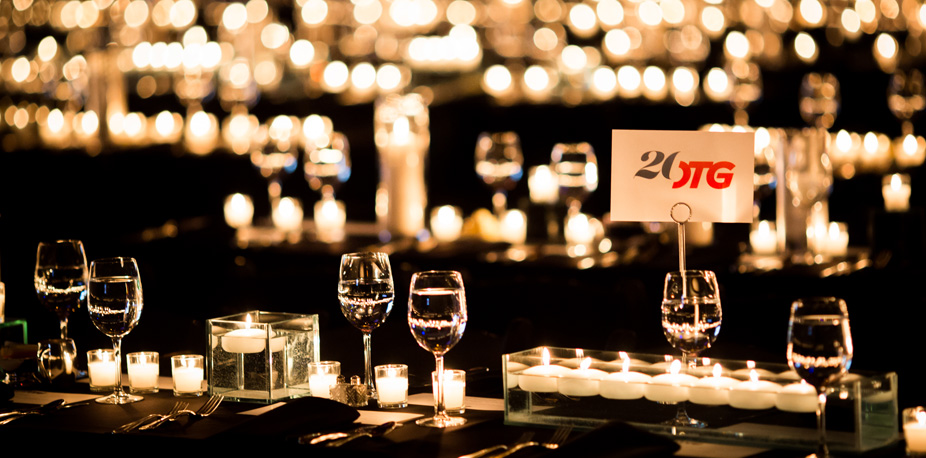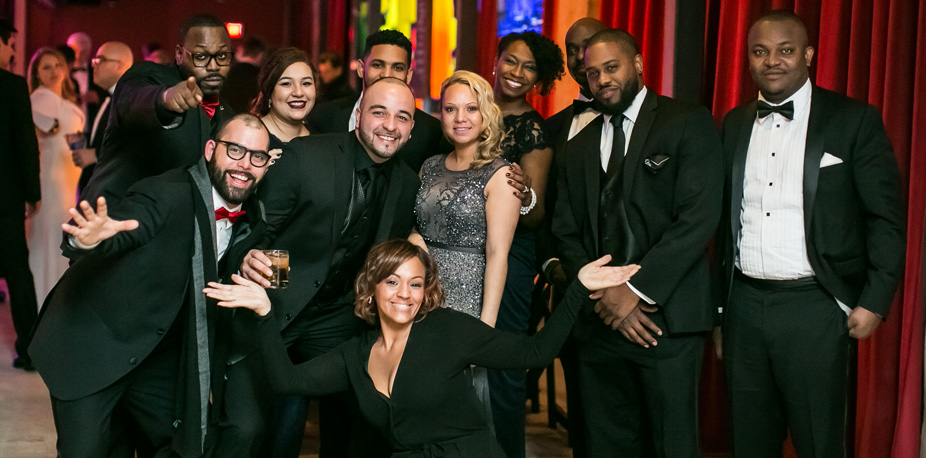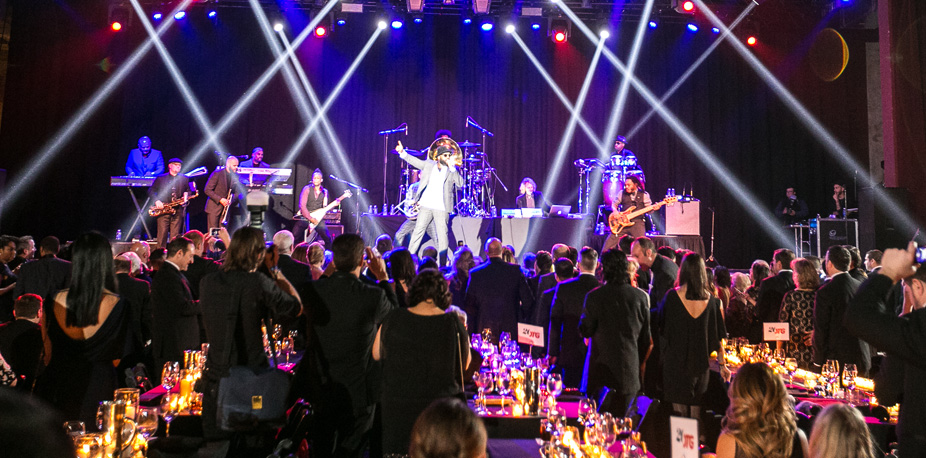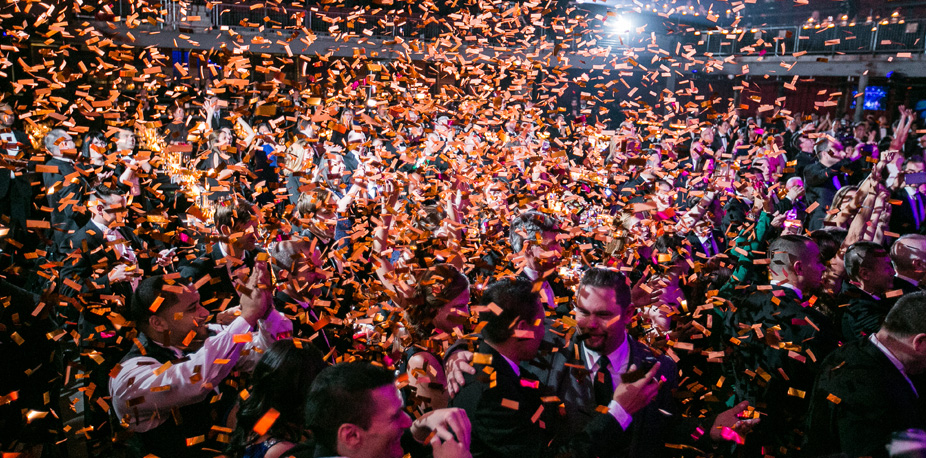 OTG20 Gala, The Fillmore
OTG Crew Members Celebrating 20 Years 
The Roots

This is 20…