This week we've unveiled Vanguard Kitchen, an "immersive and chef-driven concept" in the United Airlines terminal at Newark Liberty International.
Featuring both unique artwork and contemporary American cuisine, Vanguard Kitchen is our latest concept to open as part of the transformation of the United Airline's terminal C.
Photo: OTG
Vanguard Kitchen's menu focuses on seasonal, farm-to-terminal fare and was developed in conjunction with New York Chef Dan Kluger of Loring Place fame. Previously, Kluger served as executive chef at ABC Kitchen, where he earned the prestigious James Beard Award for 'Best New Restaurant.'
The menu features a range of appetizers and salads including Steamed Mussels with coconut broth and coconut flakes; Beets & Carrots with curry and honey yogurt; and Steak & Roasted Pear Salad with arugula and fennel in a pine nut vinaigrette. Entrees include a Crispy Portobello Sandwich with a carrot remoulade, Black Sea Bass in a sweet onion & cauliflower cream and a Grilled Pork Chop in a caramelized apple and onion glaze.
Photo: OTG
Designed by architectural firm Rockwell Group, the space features a contrasting palette of deep purples and white, accented by whimsical sconces and rabbit table lamps. In the center of the space is a marble communal farm table and a custom, monumental chrome light fixture hanging overhead.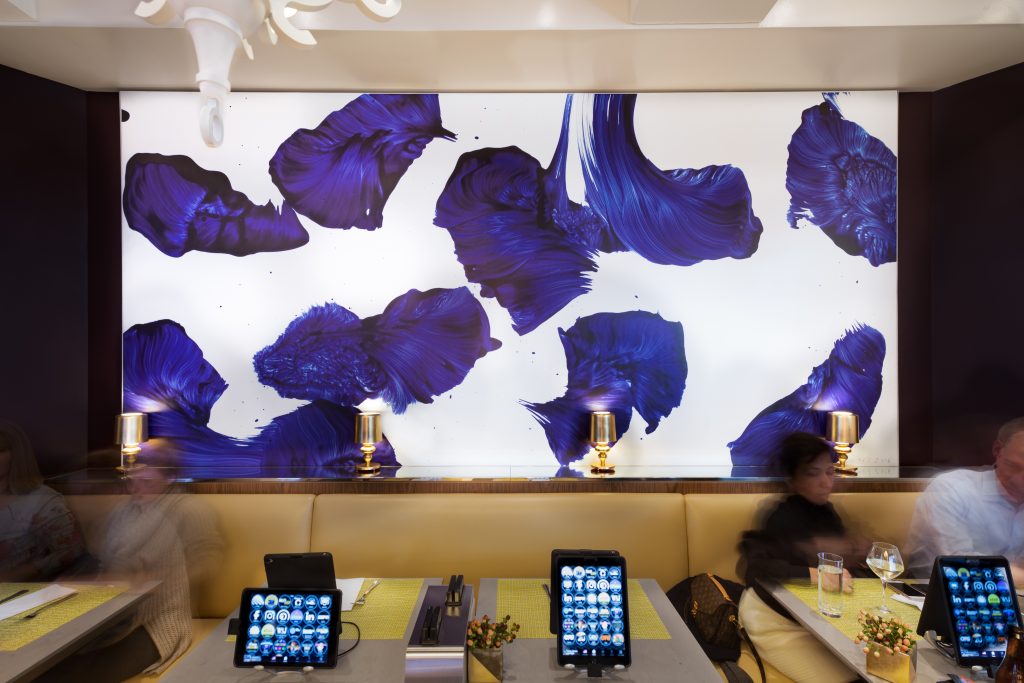 Photo: OTG
Additionally, we commissioned acclaimed artist James Nares to paint a unique piece for the space. The custom work uses a single brushstroke to record a gestural passage of time and motion across the canvas, with its gently rising trajectory eliciting a sense of flight.
"Being able to bring the incredible work of both Dan Kluger and James Nares to the terminal has been a tremendous experience," a quote from our CEO, Rick Blatstein. "By bringing this caliber of talent to the table, we ensure United travelers passing through experience the very best of the region."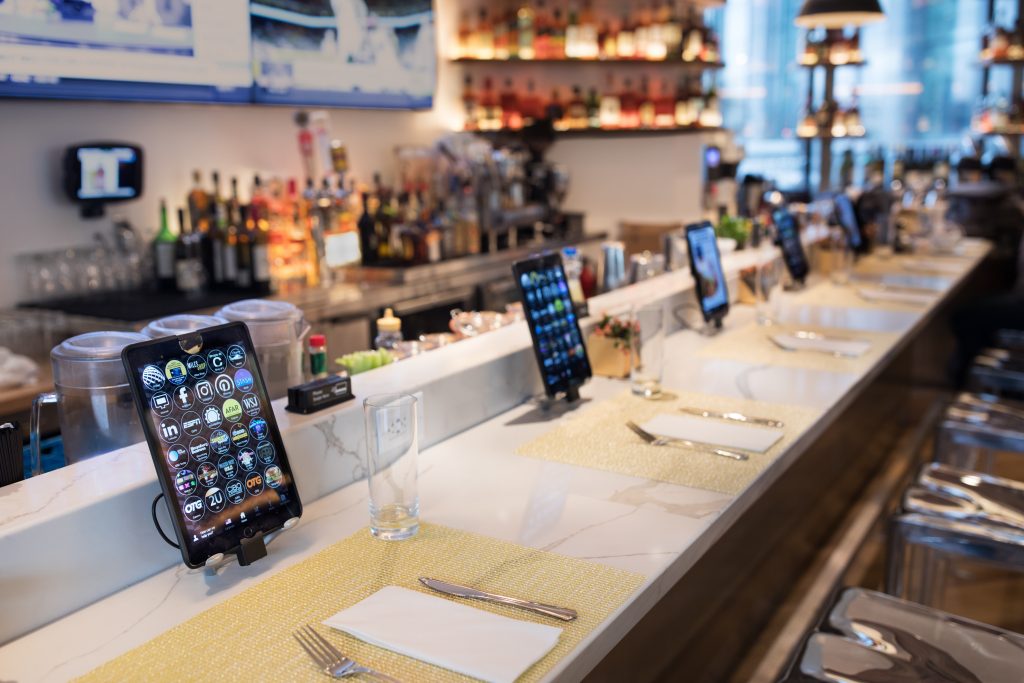 Photo: OTG
Vanguard Kitchen features a fully connected guest experience, with iPads and OTG's proprietary technology to keep travelers up to speed with real-time flight notifications, an intuitive visual menu from which they can order food, drinks or amenities, in addition to games and entertainment features and complimentary web access. Power and USB outlets are also readily available at every seat.
Happy Travels!
– OTG