by BENÉT J. WILSON
*Welcome to our new series The Queen's Column, where Aviation Queen, Benét J. Wilson takes over preFLIGHT to tackle all-things travel & OTG. Be sure to check back every few weeks for the latest from the greatest! – OTG*
It was a high-energy affair as United Airlines and OTG recently partnered to offer local players a sneak peek of the new Terminal C-North at Houston's George Bush Intercontinental Airport.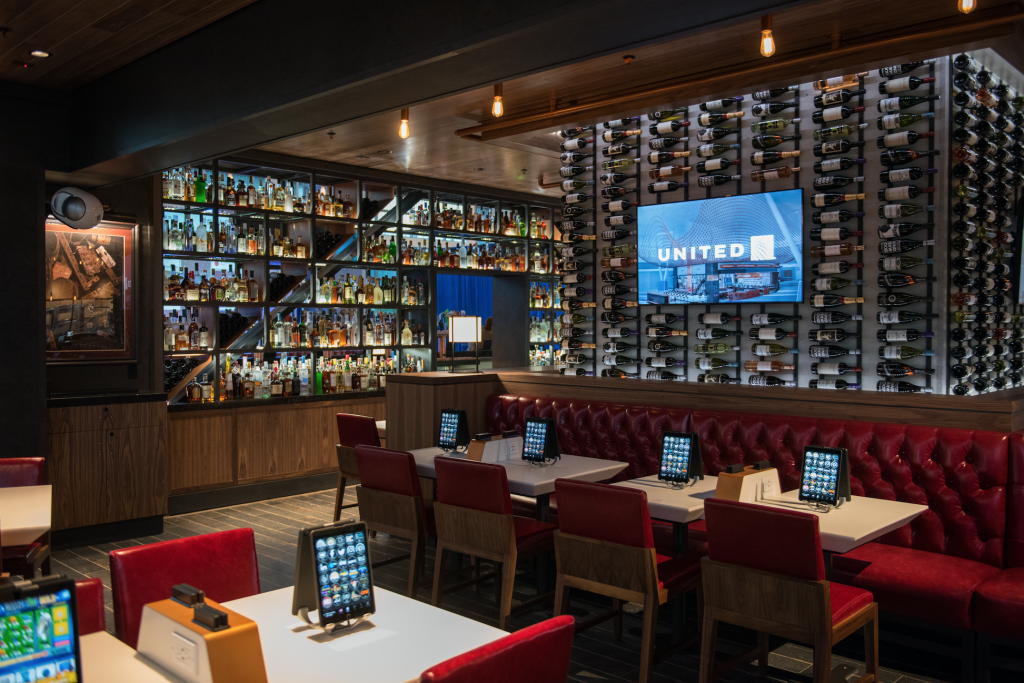 Ember's new interior on full display
The reveal of Ember, the terminal's centerpiece restaurant, was the highlight of the event. Capped with a ceiling of 5,000 stars, the Texas tavern helmed by Chris Shepherd, the James Beard-award winning chef at Underbelly, sports a wood-fired grill and an emphasis on locally sourced food that has made it one of Houston's top restaurants.
"Chris Shepherd is one of the best chefs in the country, not just in Houston. So we felt he would be a beautiful fit for this major restaurant," OTG CEO Rick Blatstein said. "You can see that this is a big, open kitchen that will offer travelers a great dining option. Chris meshed beautifully with the concept he's put in Terminal C-North."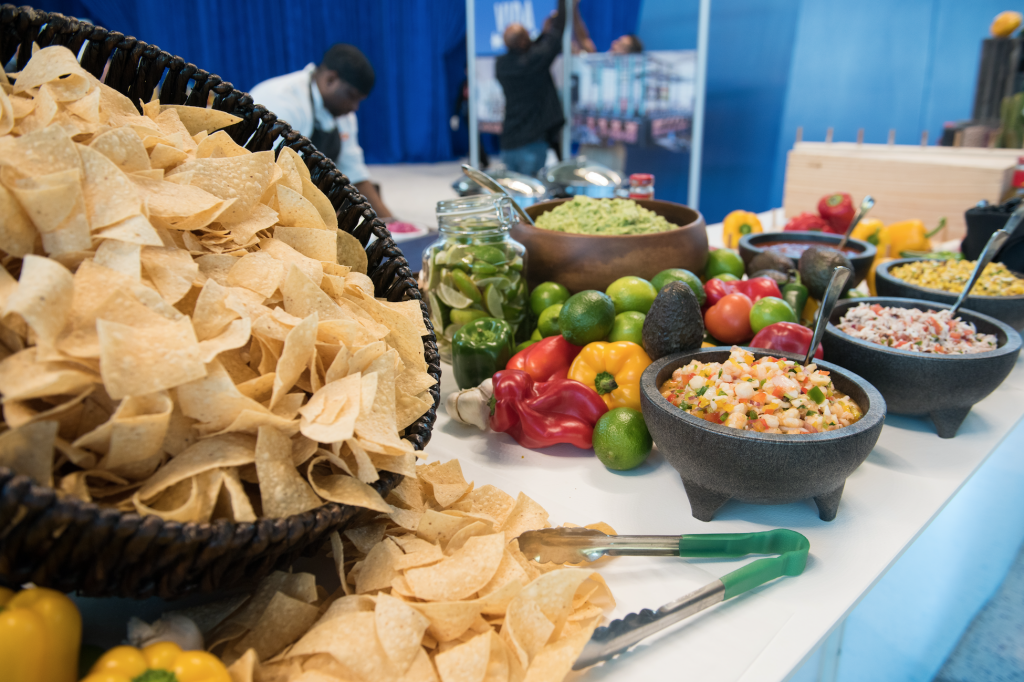 Vida Taqueria's fresh guacamole bar & toppings
Guests were invited to sample the wares that travelers will be treated to from Terminal C-North restaurants, including a beef and ahi tuna carving station from Shepherd's Ember, the Vietnamese shrimp boil with fried rice from Bam Bam, a Vietnamese-Cajun beer garden created by Chef John Nguyen, a short rib panini with burrata and a port wine demi-glace from Olio, a panini bar by Chef Monica Pope, a red and white pizza from Pala, a Neapolitan-style pizza restaurant helmed by Chef Ryan Pera, and a Gulf shrimp ceviche guacamole from Vida Taqueria by Roland Laurenzo.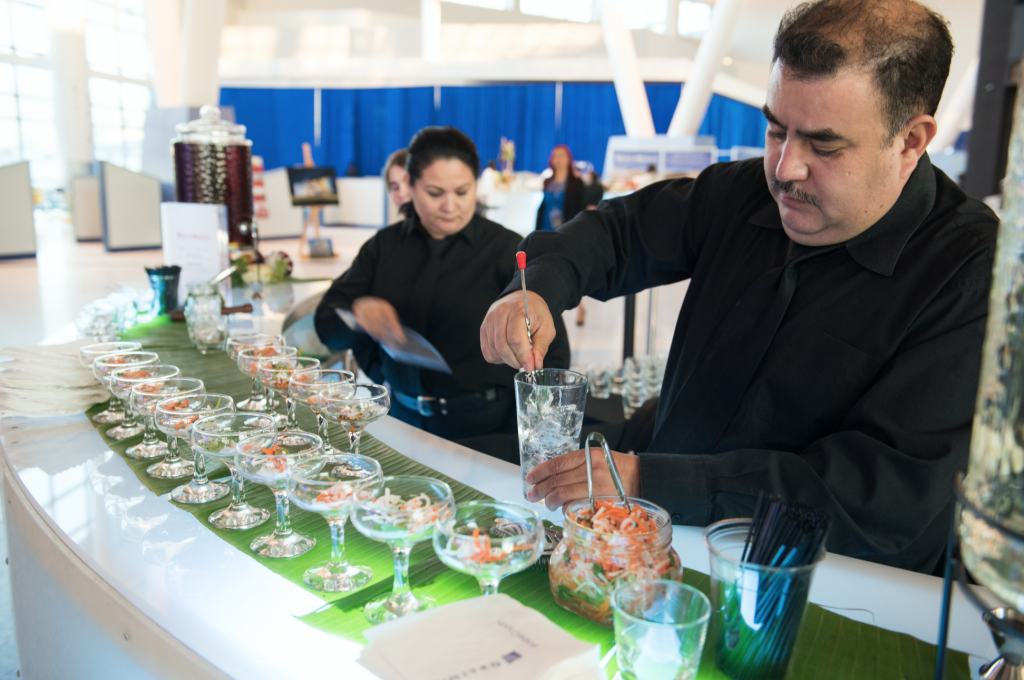 Bam Bam's Bahn Mi Gibson
Along with a full regular bar, guests were treated to specialty craft cocktails from each restaurant including:
* Bam Bam's Bahn Mi Gibson, made with Beefeater gin, dry vermouth, pickled daikon, carrot and cilantro
* Ember's Ivy Clipper, mixed with Tito's Handmade Vodka, Laird's Apple Brandy, lime juice, grenadine and a dash of absinthe
* The Olio Spritz, made with Contratto aperitif, Mionetto Prosecco and club soda
* Pala's Sazerac Romagna, which featured Jim Beam Bourbon, Fernet Branca, a dash of Sambuca and a brown sugar cube
* Vida Taqueria's Vida Paloma, made with Sauza Silver Tequila, Aperol, Schöfferhofer Grapefruit Hefeweizen.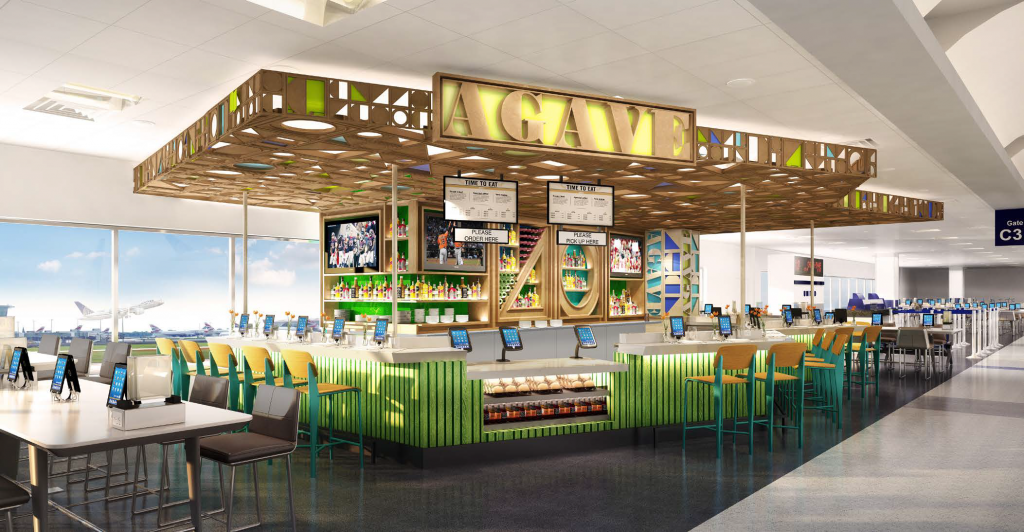 C-South concept Agave
But the culinary surprises headed to IAH does not stop with this group of new eateries. In Terminal C-South, watch out for the Magnolia Meatball Shop by Chef Christopher Williams, Agave, a casual taqueria by restaurateur Sharon Haynes, and H-Burger, a ranch-to-table eatery with a local spin by Chef Antoine Ware.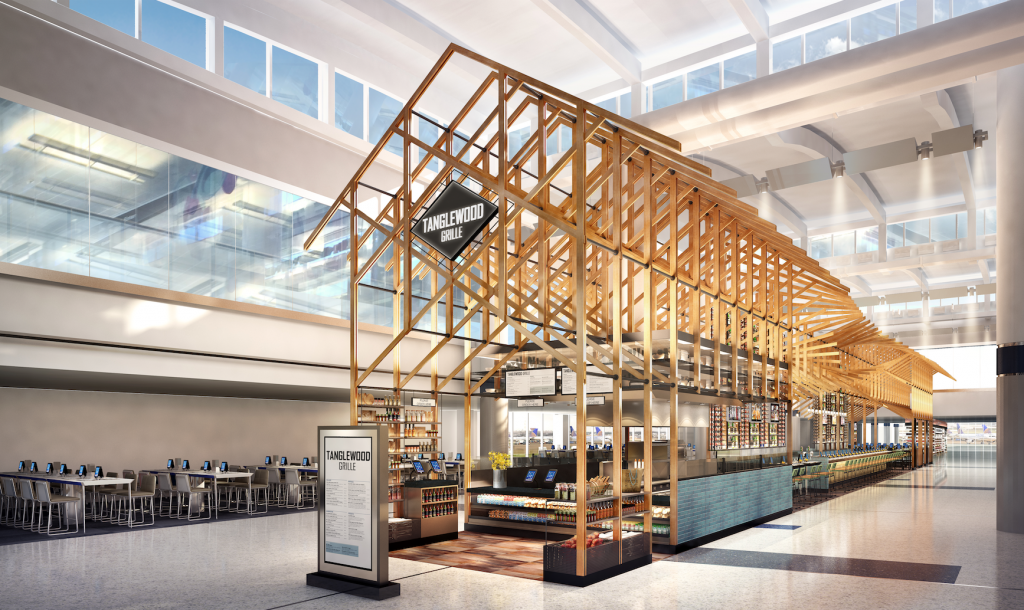 Terminal E concept Tanglewood Grille
Travelers in Terminal E will be able to enjoy these restaurants in 2017: Q, a southern barbecue concept by Chef Greg Gatlin; Gavi, a Houstonian take of an Italian family-style restaurant from Pala's Pera; Yume, a sushi and ramen bar by Chefs Chris Kinjo and Mike Tran; Tanglewood Grille by Chefs Seth Siegel-Gardner and Terrence Gallivan, which will offer hand-cut steaks, fresh seafood, farm-to-table greens and craft cocktails and beers; and Beerhive, featuring locally sourced small- and large-batch brews and bar food.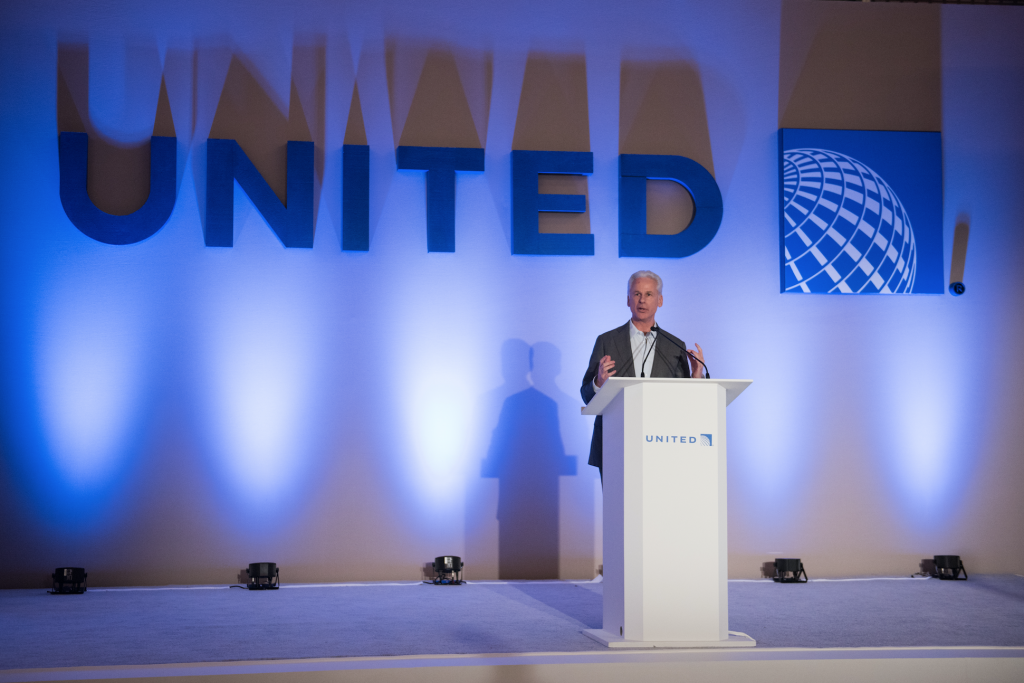 OTG CEO Rick Blatstein
What the new offerings at IAH say is while traveling and fine dining aren't concepts that are usually put together, there's no reason why they can't be, Blatstein said.
"Why not offer these great restaurant concepts at an airport?" he says. "Many people are probably going to eat at a local restaurant during the week or over the weekend. They are our customers. Just because you come to us through airport security doesn't mean we shouldn't offer you extraordinary food."
"We want to represent a city so well in the airport that next time they come, they may want to spend a couple of days."
The C-North consulting chefs with Rick, Samantha and Justin Blatstein
More on these local chefs can be found here: http://bit.ly/2g6DTE8
—
Be sure to read more from Benét at AviationQueen.com.