*preFLIGHT Plated. Our latest series bringing you a taste of the terminal, beyond the baggage claim. Be sure to check back every few weeks for the latest from our menus.*
//
Our first featured dish is a Chilled English Pea Soup, with confit heirloom cherry tomatoes, melted leeks, fennel, peekytoe crab, tobiko and pea shoots.
Inspired by a recent trip to the Brooklyn Borough Hall Greenmarket, where OTG lead concept Chef Michael Coury sourced ingredients and inspiration for the latest roll out of Spring menu changes.
Ingredients: (12 servings)
2 qts of fresh English peas
1 cup Spanish onion
2 tbsp fresh garlic
1/4 cup of fresh mint (whole leaves)
3 1/2 qts water
1 cup  extra virgin olive oil
4 tbsp salt
1/2 tbsp ground white pepper
1/2 cup of fresh leeks
1/2 cup fresh fennel
1/2 cup heavy cream
2 tbsp butter
1/2 tbsp salt
//
1/2 cup of shaved fresh fennel
1/2 cup of diced leeks
8 sprigs of fresh thyme
1 cup of cherry tomatoes
2 garlic cloves (crushed)
1 tbsp salt
1 cup heavy cream
2 tbsp whole butter
//
1 cup peekytoe crab meat
3/4 cup tobiko
1/4 cup pea shoots
1/2 qt heirloom cherry tomatoes
Method:
For the base soup, sweat the onions and garlic with 1/8 cup of extra virgin olive oil on medium heat until they are soft. Bring your English peas to a boil, simmer for 5 minutes, drain and purée. Add fresh mint leaves, salt and pepper, and chill the soup.
Garnish:
Cook small diced leeks and fennel on medium heat until translucent, add heavy cream and bring to a simmer, finish with a pinch of salt and pepper.
Heat cherry tomatoes in extra virgin olive oil on medium heat with fresh thyme leaves. Crush 2 garlic cloves and stir in, simmer until the tomatoes are soft, turn off heat and let cool.
Using a small ring mold, place the cooked tomatoes, followed by leeks and fennel into the center of a soup bowl. Add ready to eat crab meat and tobiko on top. Finish by sprinkling pea leaves around the plate and serve the chilled soup table-side for the ultimate dinner party presentation!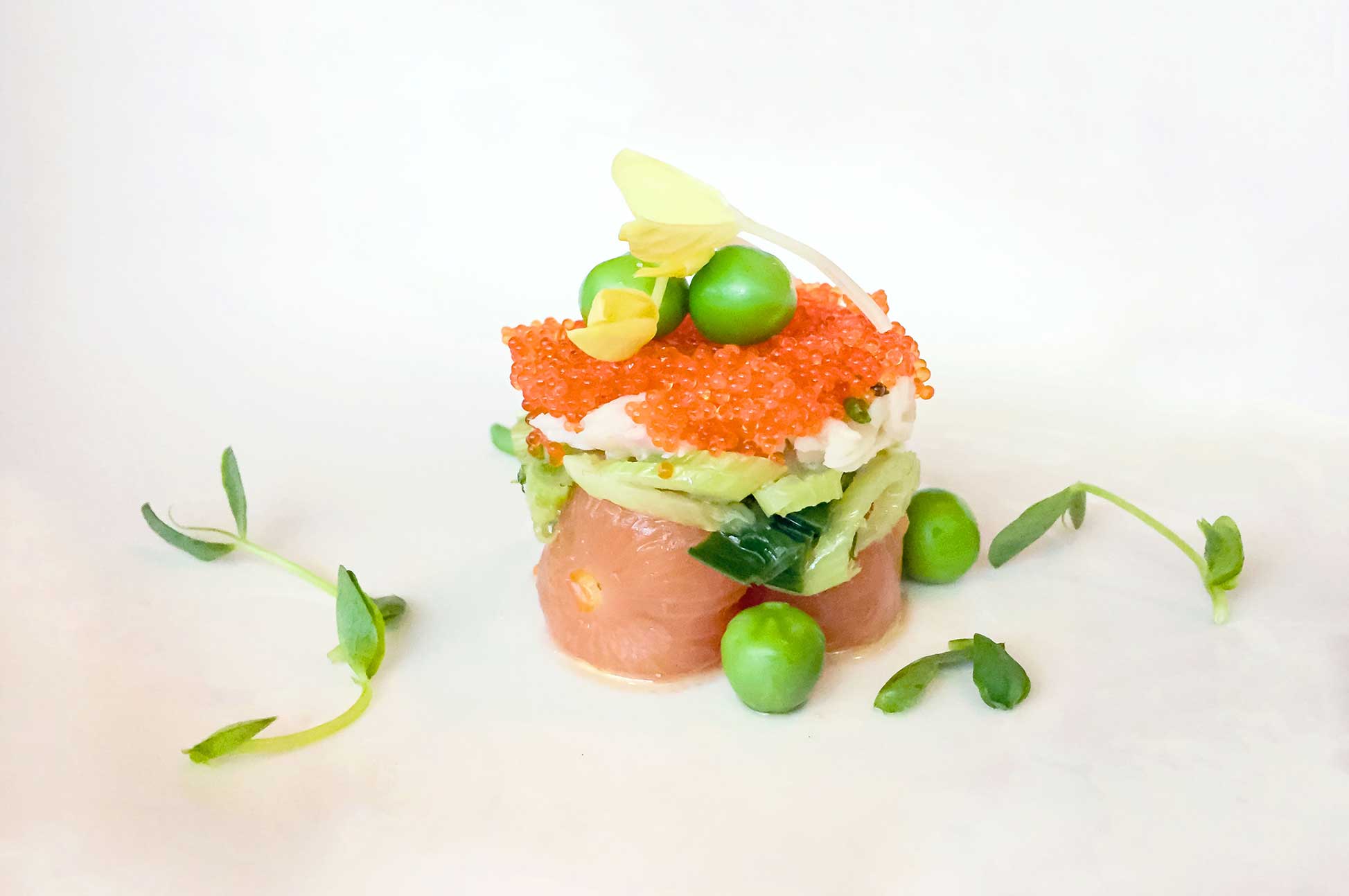 Pictured: Garnish pre-soup
Happy Cooking and Happy Travels!
– OTG
Featured Photo Credi: Flickr, Mike Licht.